Color Quest - from Paint Brawl to Dark Threat
The adventure begins here!


In 2012, we presented you Paint Brawl, a tactical game for 2 to 4 players introducing Color Warz universe.

In this board game, Oak was looking for the Chosen One by making Khromaz Chiefs challenging each others.

In 2013, we proposed to you Dark Threat, an asymmetric strategy game for 2 players illustrating final battle between Gaia, the Goddess of Life and Kaos, the god of Nothingness.

In this board game, you have to choose between Oak and the Chosen one or Wooden King and Fungia, the Mushroom Queen, to avoid (or allow) the Bane awaken.

Now, time has come to discover a new skirmish game for two players with all Color Warz miniatures ever published and new ones to come.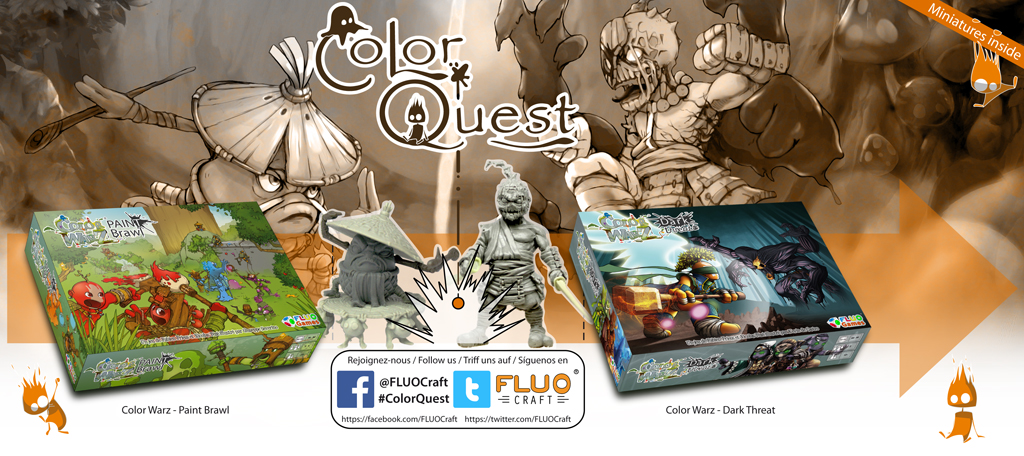 The Color Quest story takes place between Paint Brawl and Dark Threat events.

Oak has just found the Chosen One and have to escort him to the Sanctuary, in the middle of the Cursed Forest, to reveal his true Power. But they will find on their way the Ronin, first of Oak Followers that has fall to Kaos side by becoming General of his armies. You will have to use tactics and patience in order to gather sufficient Kadamas dice to trigger all his power and thus progress to the Sanctuary.
Free download Color Quest coloring book
Crowdfunding


To fund Color Quest game and miniatures, we made crowfunding campaign on Kickstarter. One or two per year.
A total of 4 to 5 seasons (depending of success) are scheduled to link events from Paint Brawl to Dark Threat. This story is a trilogy.
Every season, find all contents (game and miniatures) of the previous season as well as new products.

Currently, the game is under development.
To follow development stages, do not hesitate to consult the log books (one each month):
Color Quest miniatures
There is currently 26 different resin miniatures for Color Quest.
Scale : 28mm
Material : resin casted in France by GRX Création
Note : not the same resin used by FLUO Games. This one is much more adapted for gaming.
Sculptors
Christophe Bauer : Wooden Skeleton and Savage/ Domesticated Koloss (mutipart kit)
Valentin Zak : Warrior #2, Shaman #2, Djinn, Ninja, Monk, Cleric, Oak lvl 2 and Ronin
Gaël Goumon : Hunter #2, Paladine, Bomber and Chosen One
Stéphane Nguyen : Matriarch, Smasher, Ranger and Mystic
Rémy Tremblay : Chief, Paint Golem , small Golem, Warrior #1, Hunter #1, Shaman #1, Paint Clone and Oak lvl1
Each season, you will discover 5 to 10 new figurines.
Mid-term development
In addition to Color Quest development, we are working on a new edition of Paint Brawl, a first edition of Dark Threat and other Color Warz games like Girlz Blast (Paint Brawl expansion) or Totem Party (a card game for 2 to 5 players).
These new editions will be in partnership with publishers in the sector. We are currently in negotiations with some of them.