Color Quest - The Miniatures Skirmish game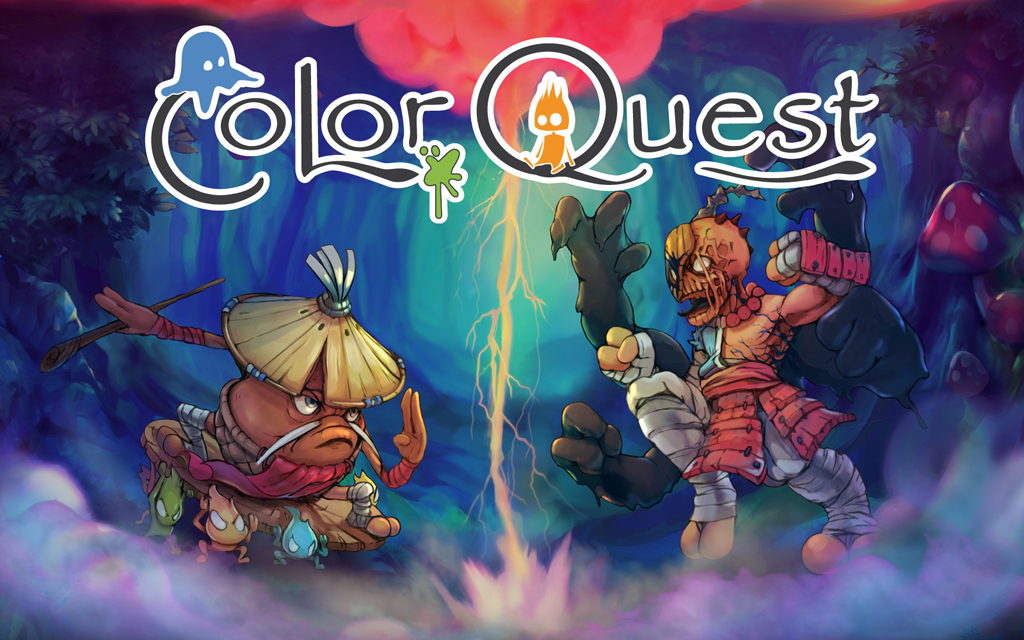 Your Quest begins here!
Color Quest is a skirmish game for two players including miniatures. The story takes place in the Color Warz universe.
The game is recommended for a public of 14-year-old but remains accessible for players accompanied by 12 years old and under (in the presence of an adult because of the resin miniatures present in game).
The original game system is simple and scalable. It will delight novices but also confirmed players. This is a good choice to initiate yourself to miniatures games.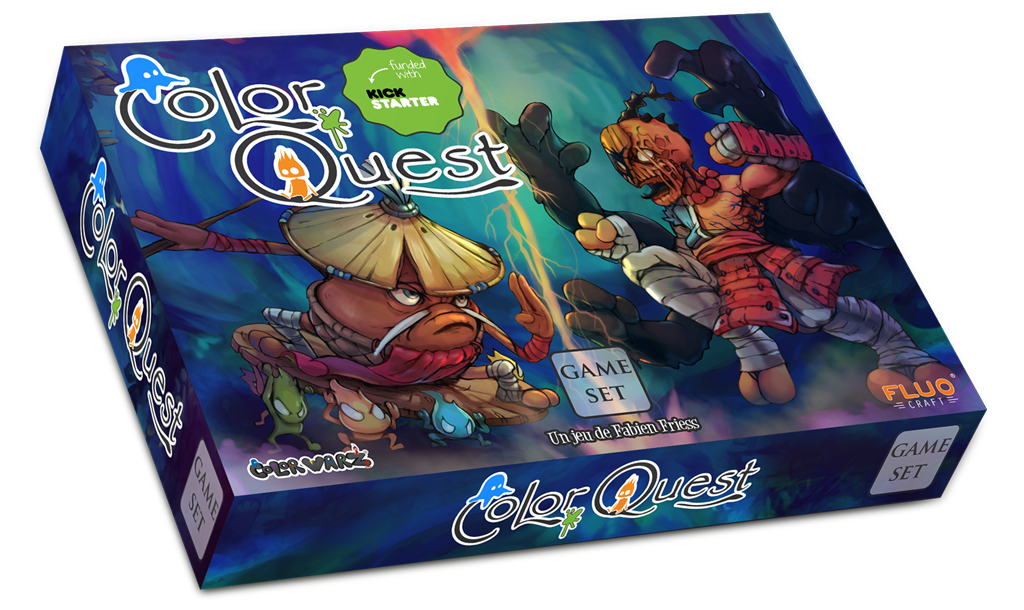 In the Color Quest game box, players will have choice between two camps :

- Gaia's Wardens, the Goddess of Life, led by Oak, the old wise
- Kaos's Legions, the God of nothingness, led by the Ronin, the Fallen follower.

A third clan is under developement for 2021. It will introduce the Dark Khromaz, a Mercenaries clan.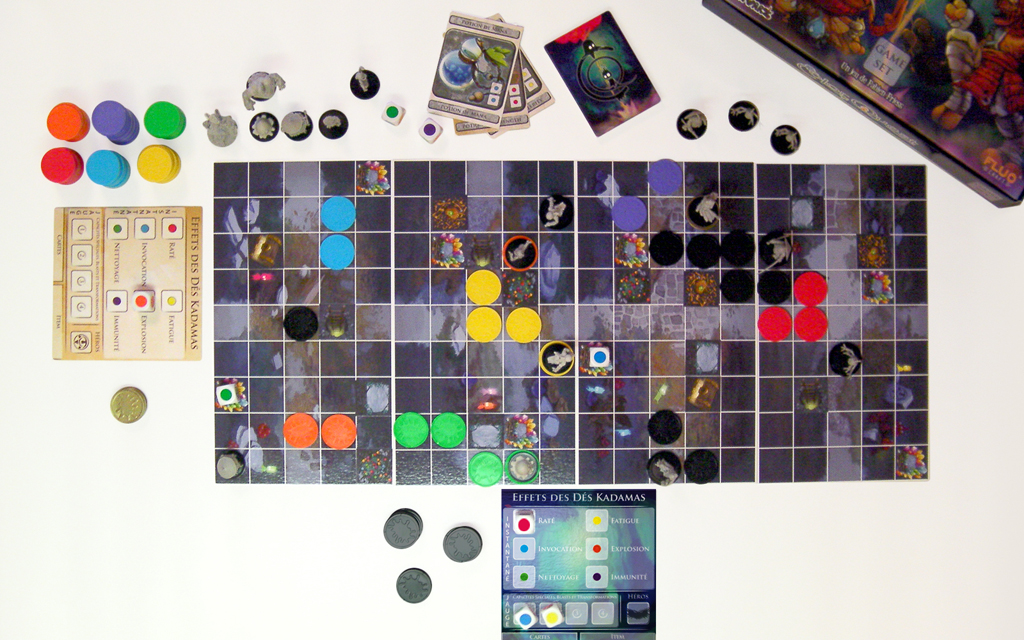 Each camp is led by a hero and will consist of different choices of troops and champions to select from a selection of 30 characters, and more to come.

Beyond the conventional material (cards, tiles, trays, etc.) using paint puddles to manage paint networks and invocations and the color dice to activate special abilities of your characters or transform your hero are strong elements of the game system.

Color Quest Game Content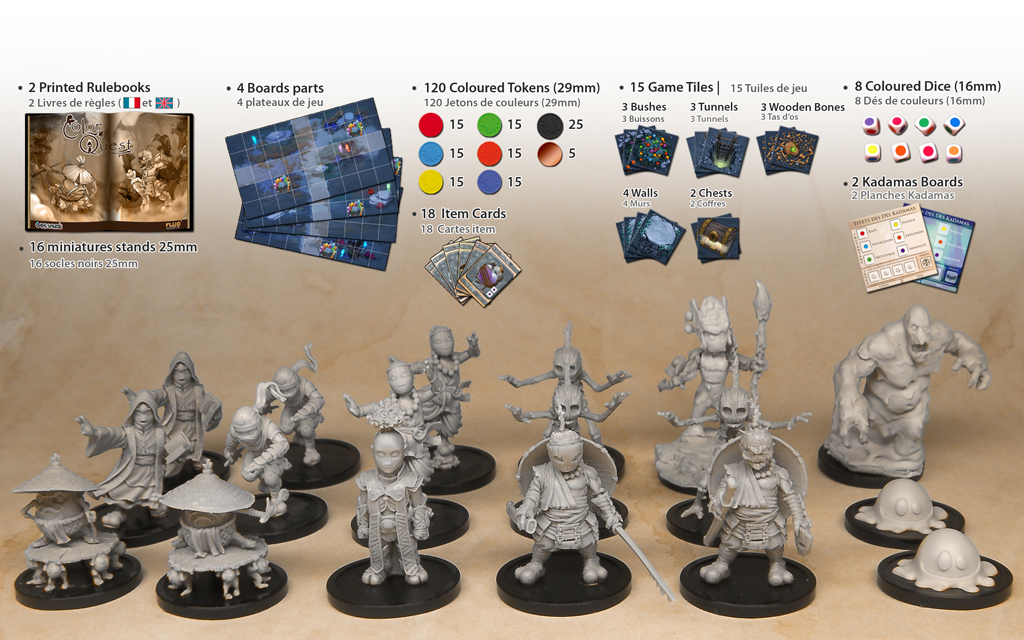 The Color Quest Game box contains all you need to play with 2 players and 18 high detailed resin miniatures :
1 Oak lvl1, 1 Oak lvl2, 1 Chosen lvl1, 2 Ninjas, 2 Clerics, 2 Monks, 2 small Golems, 1 Paint Golem, 1 Paint Clone, 2 Ronins and t 3 Wooden Skeletons.
Color Quest Miniatures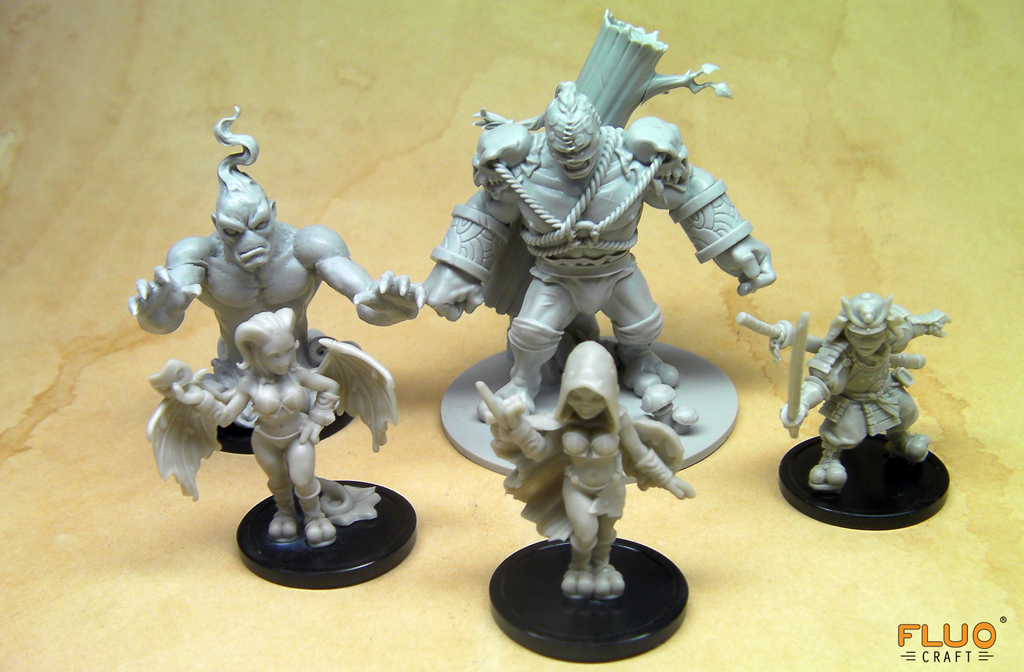 Color Quest Saga (2021) Miniatures sculpted by Gaël Goumon (Succubus level 1&2) and Valentin Zak (Mega Kadamas, Samourai and Luchador)
Color Quest Gamma (2020) Miniatures sculpted by Valentin Zak (Spartan and Necromancer) and Gaël Goumon (Assassin).

Color Quest Beta Miniatures (funded with Game On Tabletop in 2019) sculpted by Valentin Zak (Valkyrie and Dryad) and Christophe Bauer (Amazon).

Color Quest Alpha Miniatures (funded with Game On Tabletop in 2018) sculpted by Valentin Zak (Doomed Matriarch and Chosen One lvl2) and Stéphane Nguyen (Doomed Chief).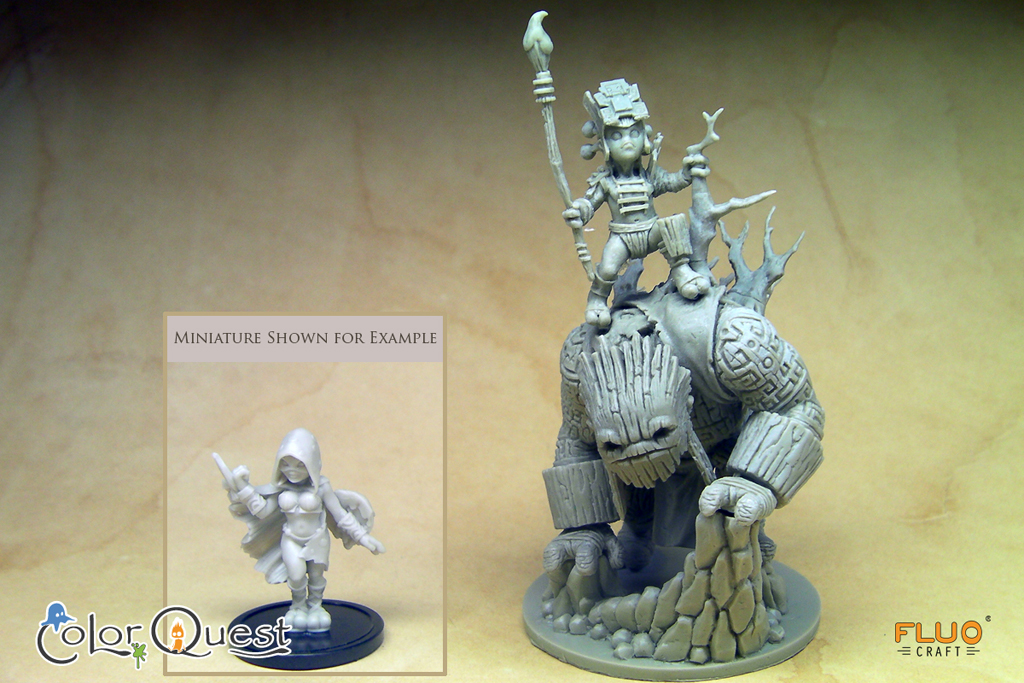 The Domesticated Koloss (Color Quest miniature n°26) sculpted by Christophe Bauer (on a 50mm scenic stand)


The Black Paint Basilisk (Color Quest miniature n°28) sculpted by Stéphane Nguyen (on a 50mm scenic stand)
---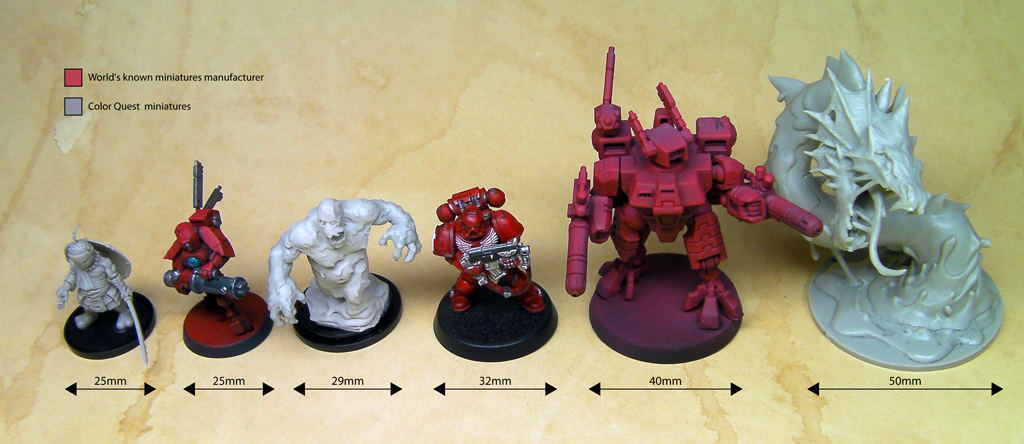 There are currently 46 miniatrues in Color Quest range.
Scale : 28mm
Stands : 25, 29 and 50mm
Material : hight detailed resin produce in France by GRX Créations
On every crowdfunding campaign, discover 3 to 5 new characters (miniatures) and additionnal game content.
Color Quest range (june 2021)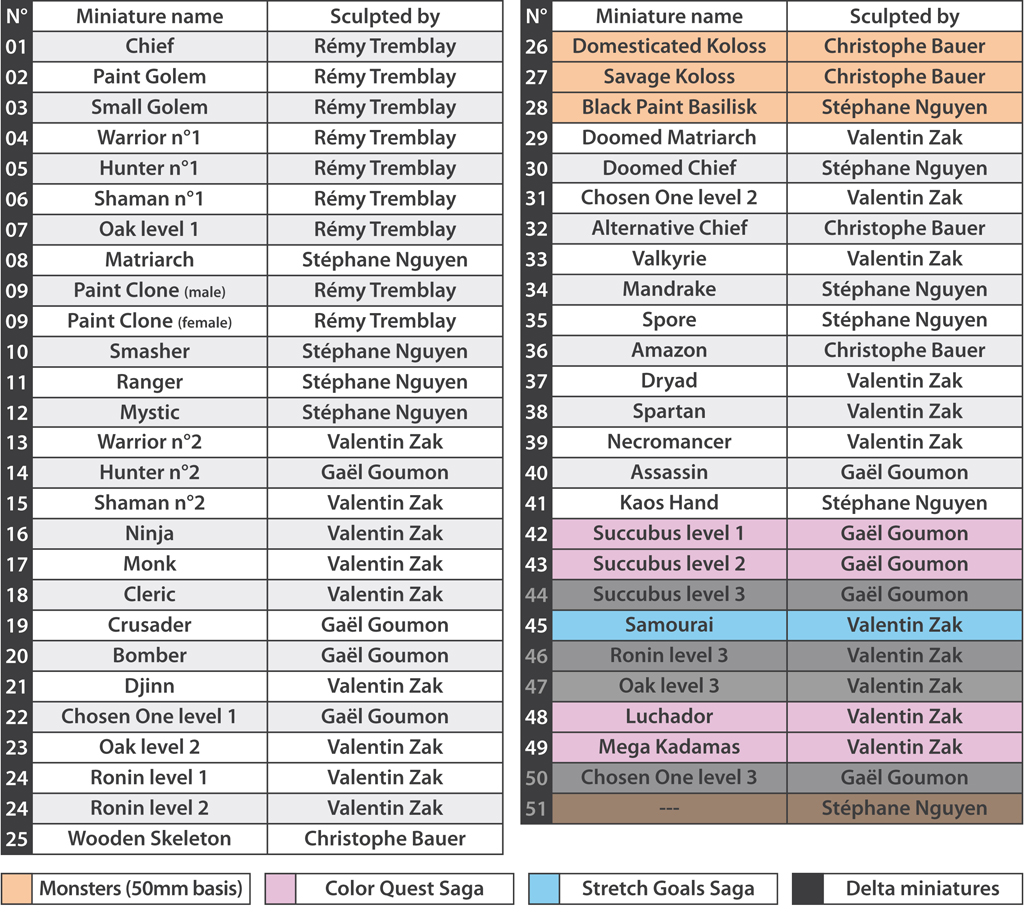 Color Quest evolution through crowdfunding campaigns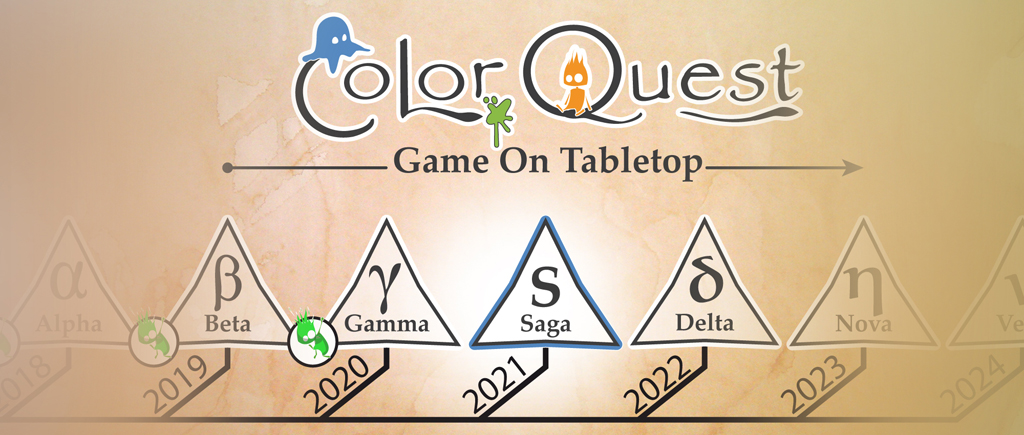 To raise fund to develop and produce Color Quest Game and Miniatures, we make crowdfunding campaigns. We are currently working on the 5th Color Quest campaign : Gamma.
Color Quest on Kickstarter : fist steps

The "seasons" system was developed to propose 5 miniatures + one monster (final stage boss) each campaign during 4 seasons to link Paint Brawl and Dark Threat events.
Color Quest on Game on Tabletop : a new start
After season 2 failure, we took time to develop a new formula. We also decided to change our crowdfunding plaftorm and choose : Game On Tabletop.

Color Quest on Game on Tabletop


On each campaign, we will propose to you 2 new miniatures (playable characters) plus a new one for free close to the funding (stretch goal).
Our deal is simple : 2 miniatures payed, one offered. This is the best we can do and the more efficient for you.

Beyond a new campaign, this is a new formula that we propose here. We currently have enough material to produce 6 similar campaigns (depending on the success of each) to reach the outcome of the plot and the final fight between the Ultimate Bane (incarnation of Kaos on Khroma) to the Bright Chosen One (level 3).

With each edition, you will discover new miniatures, new rules and even a new clan to come!
In each campaign, find all the content of the previous edition as well as new content.
Follow Color Quest news
If you want to follow last Color Quest illustrastions, miniatures pictures, etc. Just follow us on Facebook or Twitter.
You can also subscribe to our newsletter.
Join the Community
Even if Color Quest community if mostly constitued by French membres (around 85%) we also have some American, English, German or Russion members.
You can talk abouk Color Quest on the following forums :

- Board Game Geek
- Dakka Dakka
note : see french translation for french forums links.
Color Quest : from Paint Brawl to Dark Threat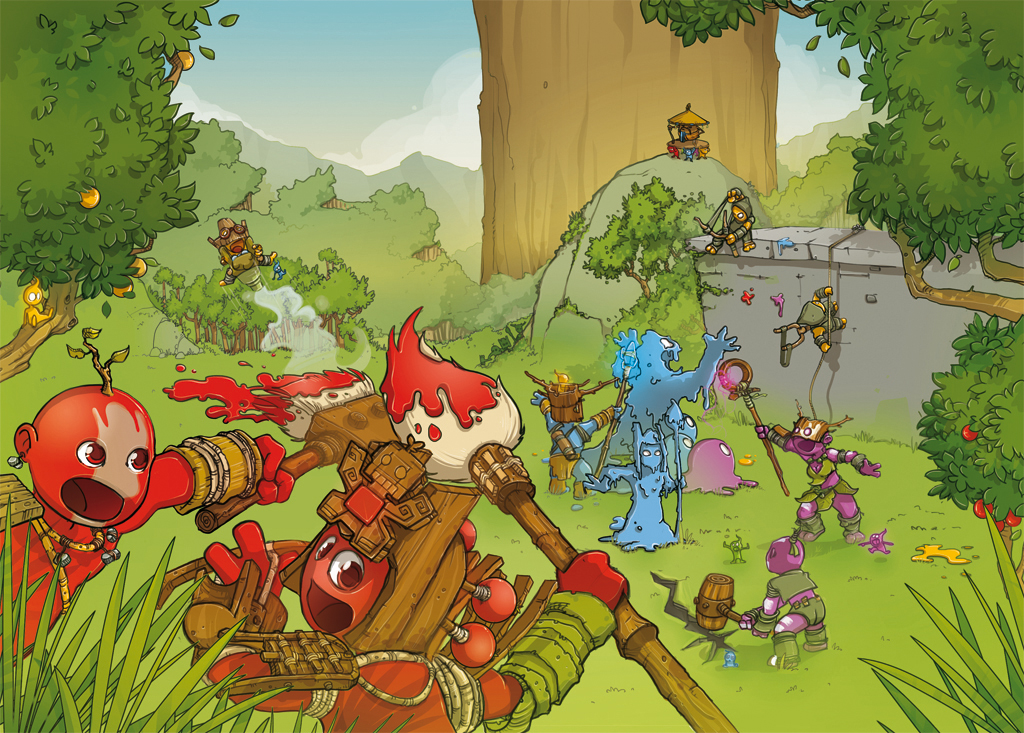 In 2012, we presented you Paint Brawl, a tactical game for 2 to 4 players introducing Color Warz universe.

In this board game, Oak was looking for the Chosen One by making Khromaz Chiefs challenging each others.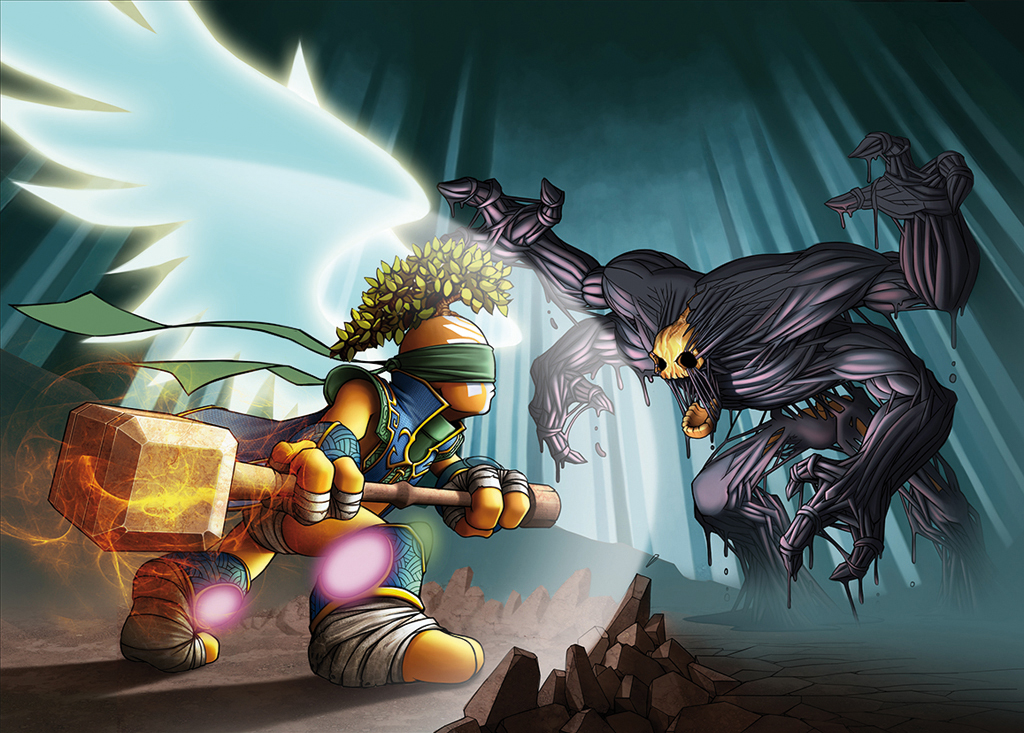 In 2013, we proposed to you Dark Threat, an asymmetric strategy game for 2 players illustrating final battle between Gaia, the Goddess of Life and Kaos, the god of Nothingness.

In this board game, you have to choose between Oak and the Chosen one or Wooden King and Fungia, the Mushroom Queen, to avoid (or allow) the Bane awaken.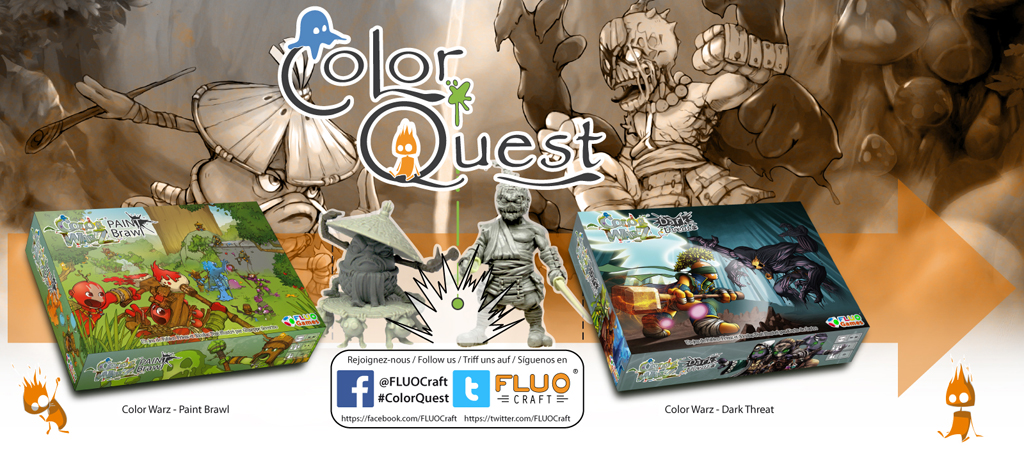 The Color Quest story takes place between Paint Brawl and Dark Threat events.

Oak has just found the Chosen One and have to escort him to the Sanctuary, in the middle of the Cursed Forest, to reveal his true Power. But they will find on their way the Ronin, first of Oak Followers that has fall to Kaos side by becoming General of his armies. You will have to use tactics and patience in order to gather sufficient Kadamas dice to trigger all his power and thus progress to the Sanctuary.
Mid-term development

In addition to Color Quest development, we are working on a new edition of Paint Brawl, a first edition of Dark Threat and other Color Warz games like Girlz Blast (Paint Brawl expansion) or Totem Party (a card game for 2 to 5 players).

These new editions will be in partnership with publishers in the sector.